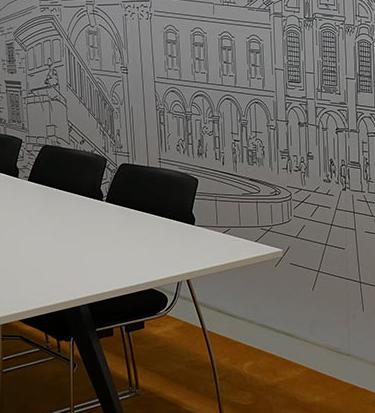 The analysis of the new business projects and business plans presented by companies and entrepreneurs, has to be complete and take into account the different kinds of needs throughout the development of the investment process.
From the initial business idea to the market, the needs may vary, naturally or depending on the incentives available, as the investment plan is implemented.
InvestBraga seeks to respond to the needs of the various types of investment, that vary depending on the size and sector of activity, aiming to support the setting and development of the investments to be implemented in the Municipality of Braga.
InvestBraga has the collaboration of several partners, national and local, with whom it maintains close relations, namely the entities that are members of its Strategic Council, such as IAPMEI, AICEP, IEFP, University of Minho, IPCA, the Catholic University, the Commercial Association of Braga and other entities such as INL, Research Centres, Universities interface units, Management and Consulting Support Companies, Social and Business Support Associations, Business Incubators and municipal companies such as TUB, AGERE, BRAGAHABIT and Braga City Council's Directions, Divisions and Departments within the scope of their regulatory and licensing powers.
Public and private agents and entities, at national and regional level, with skills to support economic development and investment promotion are partners with whom InvestBraga develops cooperation and investment promotion relationships.